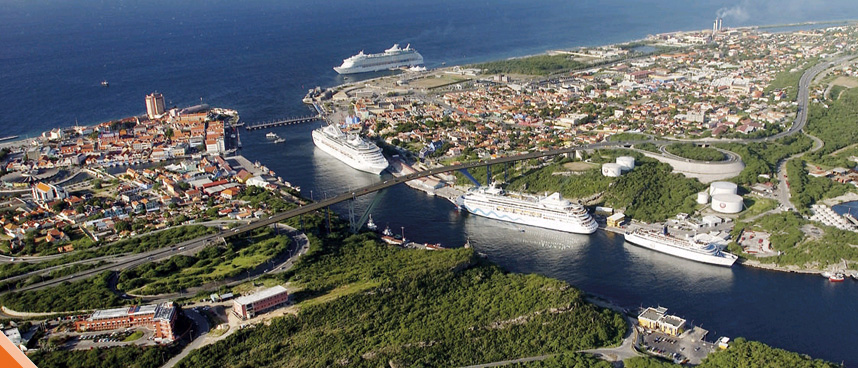 A YOUNG DYNAMIC COUNTRY
Why Invest in Curaçao?
Curaçao is an autonomous country within the Kingdom of the Netherlands and is a constitutional democracy. The Judiciary system forms an integral part of the Kingdom of the Netherlands. Curaçao has an educated multilingual population with a safe living and working environment. The island has an open and market driven economy where foreign investors are allowed to own property where there are no restrictions with regards to repatriation of profits or invested capital.
The country has a very diversified economy with the following sectors as the most important ones are the international financial services, the tourism sector, trade and distribution, manufacturing, logistics, oil refinery and renewable energy, cultural and creative industries sector, technology and transnational education. The island is strategically situated outside the hurricane belt and has several large natural harbors. A well-developed harbor including a natural deep sea port, container terminal and dry dock with multiple connections from/to the Caribbean region as well as from/to South, Central and North America and the European Union.
Curaçao has an international airport with excellent air connections from to the Caribbean region as well as from/to South, Central, North America and the European Union and a state-of-the-art telecommunication infrastructure with 6+ sub-sea fiber cables .

Benefits for businesses
---
Curaçao is located at the crossroads of the most high capacity Caribbean submarine fiber-cable networks like Arcos 1, PanAm and Americas II, and the newest PCCS providing ample bandwidth while maintaining redundant connectivity options to/from the island.Developed business parks with flexible multi-purpose buildings.
---
Curaçao offers a range of general incentives supporting international business influx, such as IT centers, tax incentives on inward capital investment, investment allowances, Expatriate exemptions on income tax, as well as so-called tax holidays for substantial investments in local start-ups, etc). Special tax incentives are available for enterprises that focus on exports or on doing business abroad, such as an export regime or a Free Zone. These are part of a wide range of legal and financial benefits which include asset protection, tax minimization, privacy and investment diversification.
---
Curaçao is one of the Overseas Countries and Territories (OCT) and as such has preferential access to the European Union. Products produced/manufactured in Curaçao obtain preferential duties when imported into the EU when all required criteria has been met.
---
Curaçao is also included in the Caribbean Basin Initiative (CBI), a trade program initiated by the United States to facilitate economic development and export of the Caribbean Basin economies. The CBI provides duty-free access to the U.S. market for most goods.
---
Key sectors
- Financial services
- Tourism
- Oil Refinery and Renewable Energy
- Technology
- Logistics: Airport and Maritime
- Trade and Distribution
- Manufacturing
- Cultural and Creative Industries
- Transnational Education