La Boheme - City vibes
Located in the middle of our island's historical centre is a little gem called La Boheme. A must visit if you are looking for an authentic foodie experience on a budget in Curacao. When you head to Willemstad, or to be more precise Punda, venture into one of the first streets called Columbusstraat and even though it's relatively small, you can't miss it!
We say "experience" because that's what it feels like. The outdoor terrace with it's bohemian look & feel breathes a warm, cozy and welcoming atmosphere. All of the action is outside, as you sit and are served right on the sidewalk of a pedestrian street, which really brings on that bustling alley vibe. You can see the surrounding buildings and monuments as your "decor". We find it very special to be able to experience the city centre at night. It's a great place to just sit, relax, enjoy a coffee, a smoothie or a meal and watch the people and curaçao life pass you by! A nice mix of locals and tourists find their way here.
Handy is that the young and dynamic team is just as diverse and can attend to you in different languages. The friendliness and attentive service of each and everyone is remarkable. We like how they have quite a few teens in their team, who learn the trade of "good service" here. It's a family-owned business, with Chilean roots, of which you will find hints of in the menu.
As a starter we tried the Ceviche, it's made according to a family recipe from Chile, and we must say.. the flavour, the mix of fresh fish and veggies & herbs were on point! It's a special which they serve only on Thursdays during Punda Vibes. As the main we of course ordered their signature dish the "La Boheme XL Steak & Cheese"! Their normal club sandwiches are already very filling, imagine how big these "fat-bastard"-style whoppers are. Did we mention they also have a dedicated cocktail bar outside? And that the prices of those, at around fl16, are also very affordable? We had a Mango-Mojito, you get quite a big glass and again.. taste-wise.. each time on point! The waitress suggested trying the Pisco Sour, served in a martini glass with again that Chilean twist, it was very surprising with a sweet & sour, yet soothing, taste. All day you can also opt for one of their healthy green smoothies.
The menu is compact, easy and affordable, yet tasteful and the portions are good. Their club sandwiches and whoppers are a favorite of many, but you can also choose from filled arepa's, wraps and salads if you want a lighter option. The restaurant is open every day, except Sunday, and they serve the same menu all day for breakfast, lunch or dinner. On specific days they also have changing extras on the menu, check their socials for updates on that. On Thursdays during Punda Vibes it's wise to come early or reserve a spot! For further info and to make a reservation go to their website.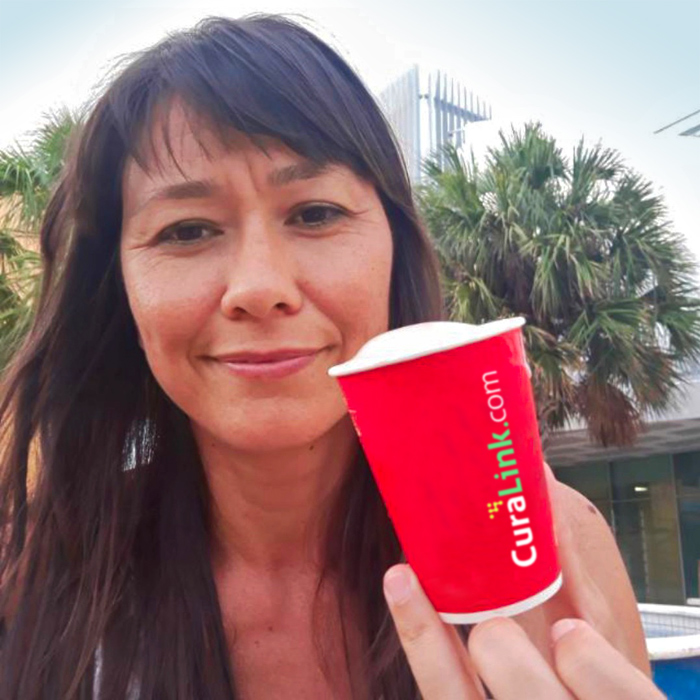 Review by Nicole van Beusekom
Exploring our island never gets boring! Even for me as a Yu di Kòrsou that has travelled around. My curiosity brings me to new places and I love revisiting old favorites. As a freelance content creator I am passionate about making content through words, images or video. Would you like me to do a review for you? Inquire via [email protected].