De Broeders - Urban Street Vibes
Tucked away in the upcoming neighborhood of Scharloo Abou you can find a cool little place called De Broeders that serves up some good street style soul food. When entering the old building and venturing through it, the walls filled with graffiti tags and murals will blow you away! And when you discover the neat outdoor garden space you will be pleasantly surprised again and realize "it ain't so small after all". In our humble opinion this hip & happening place could very well be on the top 10 list of "most instagrammable" interiors in Curacao!
It's where old meets new; where historic details flow together with urban street vibes. A great match with the rest of the district. The warm welcome and the young energetic crew makes you feel at home from the get go. The interior is fun, colorful, inspiring and with a hint of rebellion. It's literally all over the place, but refreshing and well executed. The artwork is made by local creative Robert Rodriguez a.k.a OneMan, also known for the "Dikon Chino" mural around the corner, which was one of the first of the growing number of street art pieces curated by Street Art Skalo.
The menu offers a variety of popular international street style food, but with a Caribbean twist. Lots of the items on the menu can be seen as a complete meal when combined with a side order. But another great idea is to order a few items of the menu and share! That way you can taste more of their tasty menu. Even then choosing was difficult, besides the meat options they also have a few meatless and vegan options. We shared the Tacos Vatos, Tostones burgers and Corn on the Cob. Each so different, yet so good. But beware to get dirty, these dishes are meant to be eaten with your hands. Lucky for us they were all fingerlicking good!
Outside the street vibe is continued in the form of a "food truck" style bar. Which opens on Fridays & Saturdays for urban vibe drinks & snacks in the garden. The same lunch recipes we tried are also on the snack menu, as well as other interesting choices. In the bar they make the usual mixed drinks as well as specialty cocktails. We tried the "Sweetness" which almost matched the neon colors in the graffiti on the wall and on another occasion we have tried the classic mojitos too. Both sparkling and very tasty! The garden patio is also ideal for private events or parties. It's also a perfect place to meet up with friends to kick-off the weekend or before the party night starts. Or for now .. to get in some quality time before the corona-curfew!
This laidback hangout is open for early breakfast to late lunch during week days. With early we mean very early: from 7:30 am, so it's ideal to get your breakfast & coffee before getting to work.
Friday and Saturday it's also the place to be for drinks till 10pm. Only on Sunday they are closed. For more info and exact opening times see their socials below.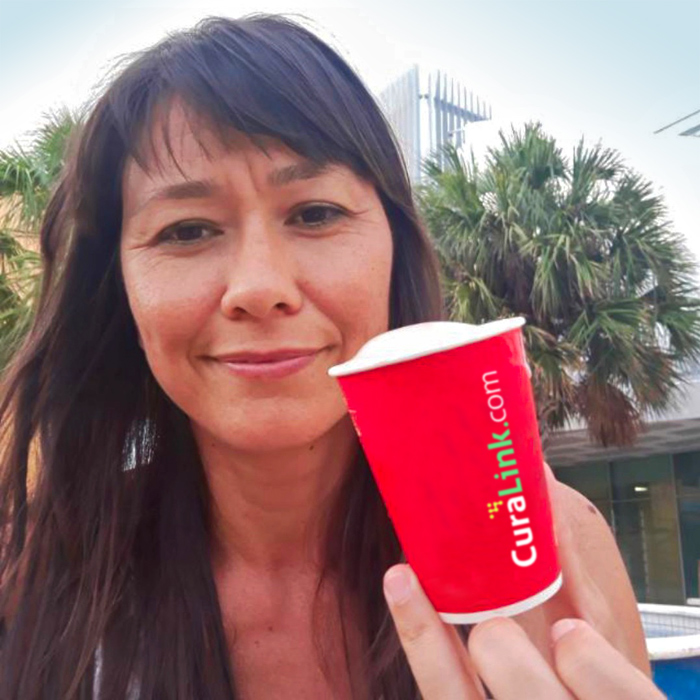 Review by Nicole van Beusekom
Exploring our island never gets boring! Even for me as a Yu di Kòrsou that has travelled around. My curiosity brings me to new places and I love revisiting old favorites. As a freelance content creator I am passionate about making content through words, images or video. Would you like me to do a review for you? Inquire via [email protected].